In the second day of Training and Exposure Visit on Public Health Management on Disaster in Indonesia, participants attended to Seminar on Public Health Standard Operating Procedure in Disaster Event and Standard and Accreditation for Hospital related to disaster Management.  It was conducted at Health Crisis Center, Ministry of Health (PPKK Kemenkes).  Head of Health Ministry's Health Crisis Center represented by Head of Evaluation and Information drg. M. Kamaruzzaman, M.Sc, received a visit of 7 delegates from representatives of ministries and institutions in Sri Lanka led by Dr. N. Fareed- Directof of  Province Health Service.
The Seminar, at Monday, 23rd October2017, was opened with a welcome speech and brief introduction of the program from Mr. Wijayanto (Director of AIT Network).  In this meeting Chief Head of Evaluation and Information drg. M. Kamaruzzaman, M.Sc presented his presentation on "Health Crisis Management" in Indonesia. Subsequently, the participants (Sri Lanka Delegation) was given an explanation of the Crisis Response Health Information System.  In his presentation described about Health Crisis in Indonesia, Disaster Management, Disaster Risk Reduction Strategy, framework of dosaster management, national system, policy, Health Crisis Organization, National Health Cluster Structure, and Integrated Emergency Medical Service System.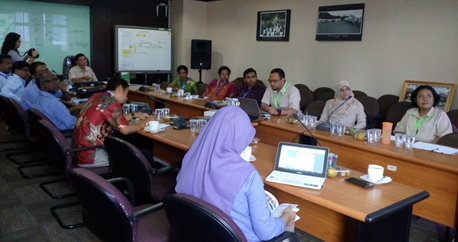 After presentation, participants looked directly at the monitoring and information activities in the PKK monitoring room (operation center).dr. Ina Agustina Isturini, MKM (Head of Sub-Division of Evaluation) explained how the operation center works.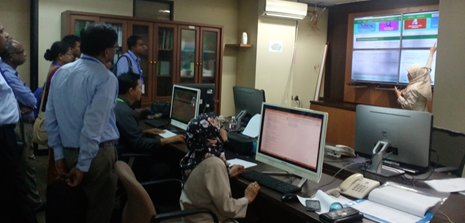 Then, The participant visited the operation center of National Command Center for integrated emergency response system at the Ministry of Health Building – 5th floor. A presentation on "119-National Collaboration of Medical Emergency Services in Indonesia" presented by dr. Yayan (Head Section of  Pre-Hospital Services Subdit Gadar) who described such as change of disease patterns related to behavior factors, Community difficulty obtaining emergency services, National collaboration between central (NCC 119), Regional (PSC 119) Province/Municipality and Related Cross Sector, the benefit of medical emergency service 119, the sustainability, and they action plan.  Then he demonstrated how the NCC works. The center distributed the response to the closest center.The NCC works 24/7.
At the end of each visit and talk, the participant took sometime for a group picture. The committee asked the participants to write the daily feedback.